TRIMER-TAG
Trimerize Any Secreted Proteins
Trimerized Ligand Linked by Disulfide Bonds
Trimerized Soluble Receptor or Antibodies
Overview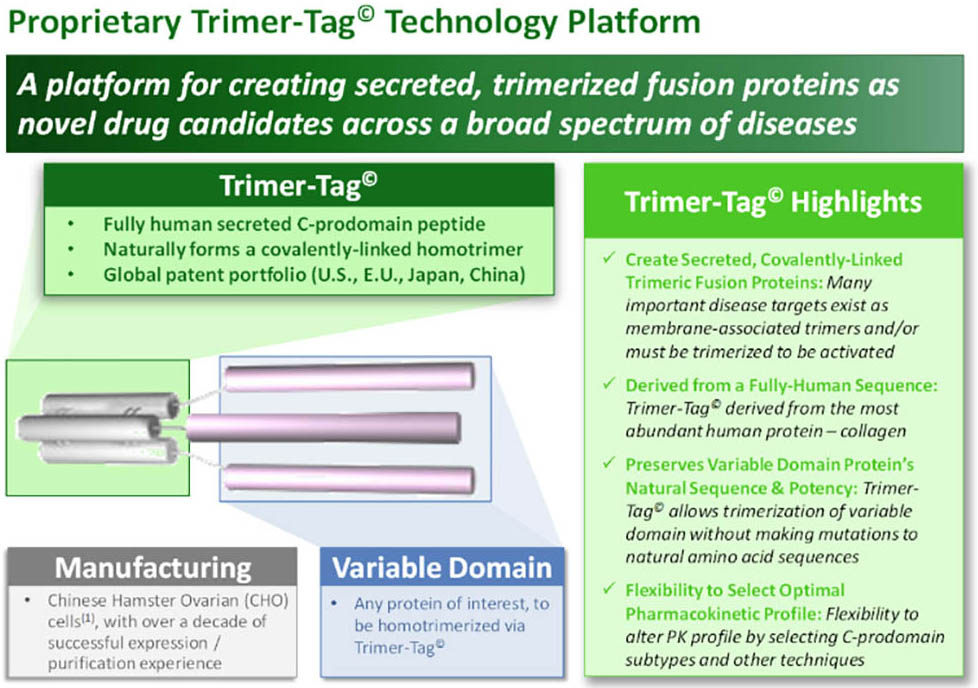 GenHunter Corporation has been granted multiple patents in the U.S., Europe, Japan, & China covering the design and expression of any secreted therapeutic protein in disulfide bond-linked homo-trimeric forms.

Our technology, dubbed "TRIMER-TAG", takes advantage of the C-prodomains of collagen proteins, which are capable of efficient self-trimerization. Collagens are the most abundant and naturally occurring proteins secreted by mammals, including humans.

TRIMER-TAG is the first drug design platform that allows any secreted protein (e.g. cytokines, soluble receptors, Fab of mAbs) to be made as covalently linked homo-trimers with greatly increased avidity to their disease-causing targets such as the TNF family of cytokines (TNFRII, TRAIL, etc), SARS-CoV-2 COVID-19 coronavirus viral spike (S)-protein, HIV gp120, DR4, DR5, sCD4, and ApoAI. Constructs for all of these have already been made and are in development as biologic drugs.
Special Features of TRIMER-TAG:
Naturally Secreted Trimer (C-Propeptide of Collagen)
Disulfide Bond-Linked
From Most Abundant Protein in Mammals (Collagen)
Up to 28 types of Collagen to choose from
Turn Any Secreted Protein into Covalently Linked Trimer
Covered by multiple patents in the U.S., Europe, Japan, & China
See the animation video for our promising TRAIL/Apo2L-TRIMER here:
CLICK HERE to see the TRAIL/Apo2L-TRIMER video

Contact GenHunter at licensing@genhunter.com for more details in accessing the TRIMER-TAG technology.
You can see more about Clover Biopharmaceuticals' work using TRIMER-TAG to produce a vaccine candidate for the new SARS-CoV-2 COVID-19 coronavirus with the viral spike (S)-protein:
http://www.cloverbiopharma.com/index.php?m=content&c=index&a=show&catid=11&id=41
More news stories from Clover Biopharmaceuticals here:
http://www.cloverbiopharma.com/index.php?m=content&c=index&a=lists&catid=11